Akatsuki Inc. (Head Office: Tokyo, Japan; Representative Director and CEO: Tetsuro Koda; hereafter "Akatsuki") announces the establishment of Emoote, a $20 Million Fund focused on Web3 investing. Emoote has experience using tokens to invest in more than 20 Web3 projects globally, including the fast-growing STEPN. Going forward, Emoote will continue to invest in startups in Web3 fields such as GameFi, NFTs, and Metaverse as we actively support the collaborate with Japanese entertainment and media companies.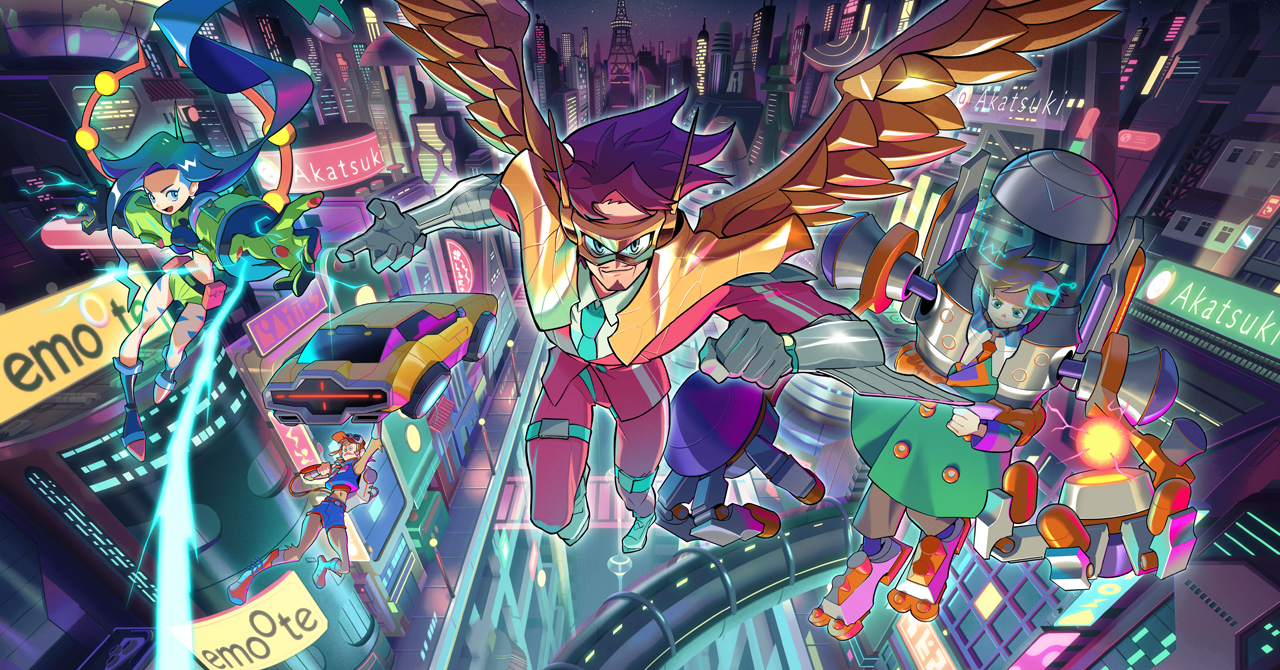 ■ Growth Trend for Web3 Fields
Startups and projects in the Web3 fields are being launched one after the other around the world with DeFi (decentralized finance) in 2020, then NFTs including GameFi in 2021. There are many cases of large-scale fundraising, including many startups moving on to scaleup financing, and projects in the Web3 fields are expected to increase further in the future.
Additionally, the Asian region has occupied an important position in Web3 up to now with Axie Infinity, a representative of GameFi, launched in Vietnam and the GameFi scholarships of Yield Guild Games born in the Philippines. In response to the success stories, a further increase in Web3 projects is expected, with Asia being the focal area.
■ Background to Establishment of a Web3-Focused Fund
Akatsuki is a maker of popular smartphone games based in Japan and Taiwan. With an emphasis on characters and stories, the company has developed games and other media such as comic and anime, receiving support from many users around the world.
Through the AET Fund1 and Heart Driven Fund2, Akatsuki has supported the growth and value enhancement of startups, mainly in the United States, India, and Japan. Based on its track record of venture capital support and accelerating growth trends for the Web3 fields, Akatsuki has been in Singapore since the second half of 2021, establishing Emoote Pte. Ltd. and starting operations of the $20 million Emoote fund specialized in the Web3 fields
Emoote has invested in projects that have the potential to transform the entertainment, media, and lifestyle fields with Web3 technology, mainly in Asia.
Based in Singapore, we will invest with a focus on Asia, an important Web3 market, while keeping a global mindset.
1 The AET Fund (est. Oct. 2017) focuses on investing entertainment and technology, mainly in North America and India.
2 The Heard Driven Fund (est. Nov. 2018) supports startups and artists, mainly in Japan.
■ The Concept of Emoote'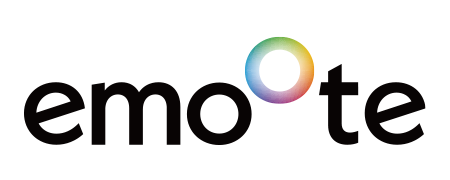 From "earning" to "emotional value" 
Emoote will soundly support the growth of tokenomics.
An important keyword in Web3 is the incentive economy. This refers to an ecosystem that rewards contributors, as exemplified by the "Play-to-Earn" concept where users are contributors that earn by playing games.
We believe that NFT consumption, based on "emotional values" such as "likes" and "empathy," is a very important mechanism that will provide the motivation upon which tokenomics4 can grow soundly in order to achieve sustainable growth of the token-centered economic zone. Further, we believe that Web3 will lead to even greater growth of Entertainment and Creator, which has created characters and media works that are loved around the world.
Akatsuki, having worked with many creators to develop entertainment and media, wants to be an investor and a creators' group where "emotional value" can also be created for the Web3 era. With this in mind, we have established Emoote, a Web3 specialized fund that values Emotion.
■ Investment Track Record
Since September of 2021, we have invested in more than 20 projects. We focus on early stage investing that includes seed capital, mainly in Asia (50%) and the United States (40%), with the remainder in other regions (10%). Examples of key investments are described below.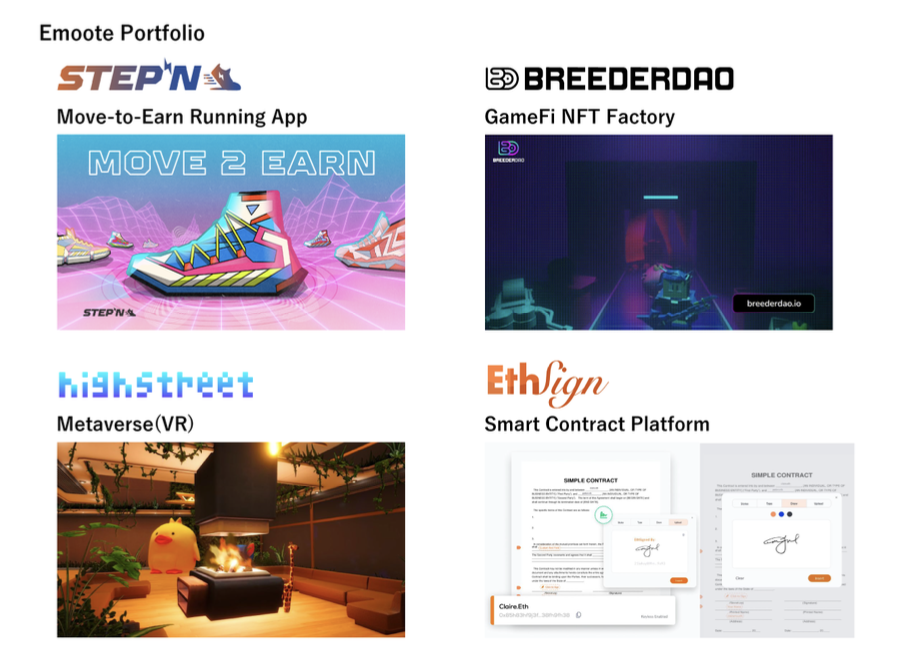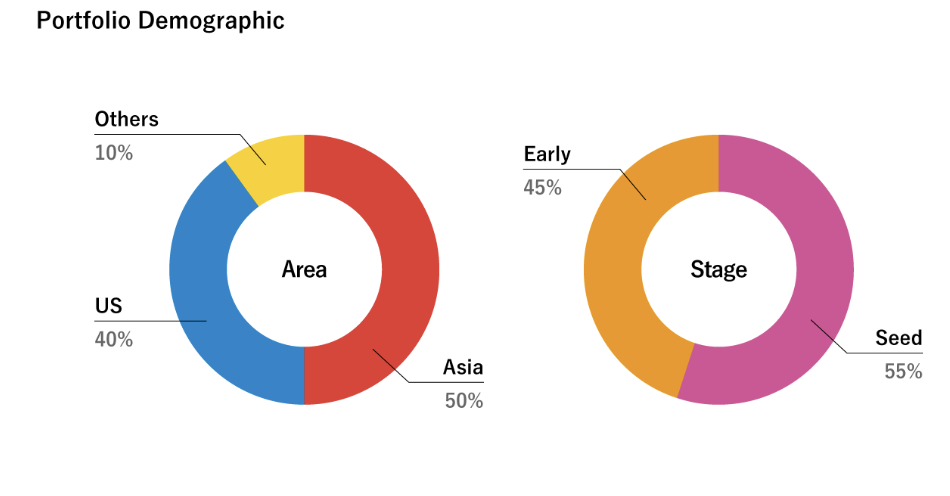 STEPN
A lifestyle app with a very dense user community, STEPN is one of the most watched projects in the world in 2022. FDV (fully diluted valuation) surpassed $20 billion in April.
BreederDAO
GameFi NFT factory using excellent analytical and execution skills to breed NFTs and sells NFTs to game guilds. Andreessen Horowitz and Delphi Digital, leaders in the VC world, have made co-lead investments.
■ Focus Areas
Web2 Applications with Token
STEPN, one of our portfolio, is creating a new economic sphere through the combination of a running app with tokenomics. This addition of tokens to the combination of traditional entertainment, media, and lifestyle service has enormous potential.
Web3 IP Creation
The creation of intellectual property is undergoing many changes in the Web3 era. Departing from the traditional IP media mix, DAOs (decentralized autonomous organizations) are utilizing NFTs to create content and develop media. We are looking not only at content and DAOs, as represented by Bored Ape Yacht Club and ApeCoin, but also at the supporting platforms.
NFT and Digital Fashion
Great games such as FORTNITE have proven that in-game skins can win the hearts of many consumers and become a big business. We believe that digital fashion is likely to surpass physical fashion as a business as people increasingly spend more time in the virtual world – not only with entertainment that includes games, but also with other digital activities such as social media and metaverses – where physical constraints are removed.
■ Emoote Core Members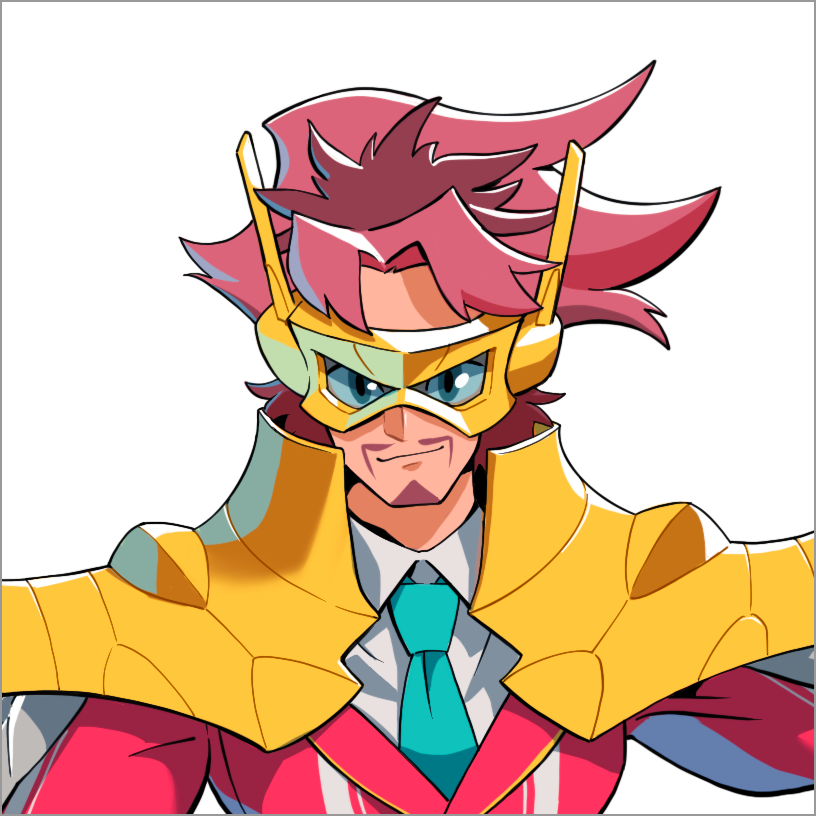 Yuji Kumagai, Co-Founder and General Partner
Biography
In 2014, assumed position of COO and Co-Representative Director of iemo Co., Ltd., which was sold to DeNA Co. Ltd. In 2015, founded sports tech company SkyBall Co., Ltd., which was sold it to Akatsuki in 2018. Appointed head of esports business at Akatsuki and director of The Professional Esports League (Spain). Vice President of Heart Driven Fund since August 2019. Mainly executes early stage investments and provides hands-on support, based on his entrepreneurship and management experience. Appointed Representative Director of Emoote Pte. Ltd. in 2021.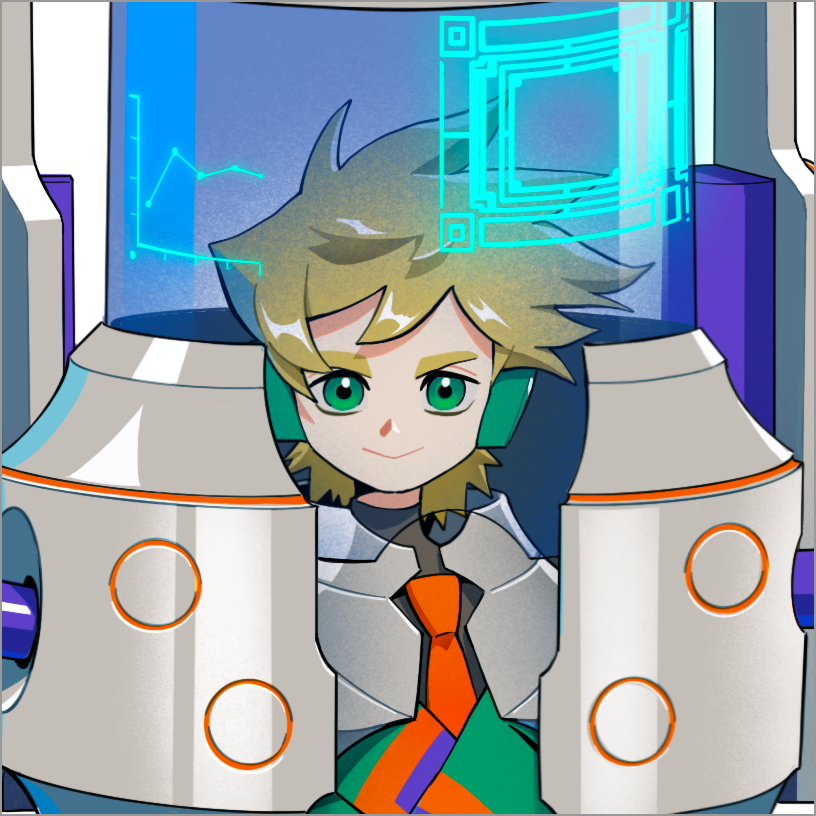 Comugi, Co-Founder and Web3 Researcher
Biography
Assumed his current position after working as an editor of business books, as the Editor-in-Chief of Crypto Web Media in Japan, and as a producer of Japan's largest blockchain conference.
He provided infographics and supervision to the "Web3" special feature in Volume 44 of the Japan version of WIRED magazine. He also attends conferences such as Web3 Conference Tokyo and actively posts about the latest Web3 developments under the name "Comugi" and using the "@ro_mi" handle on Twitter.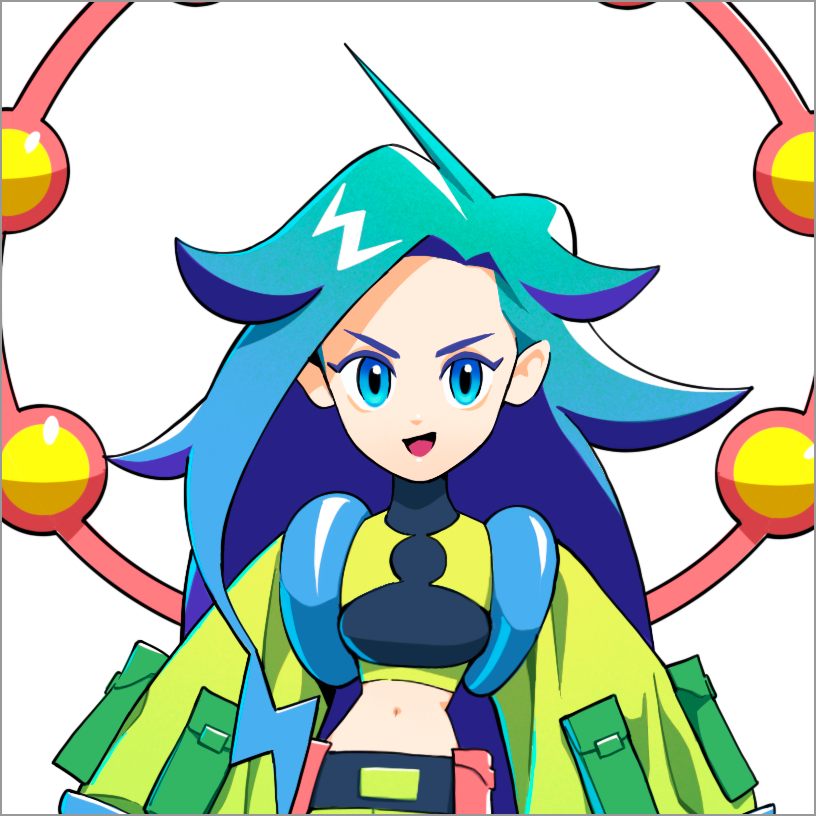 Mai Fujimoto, Advisor (nickname "Miss Bitcoin")
Biography
She has been striving to spread Bitcoin around the world since 2011, leading to her nickname "Miss Bitcoin" internationally, and has developed strong connections with global projects. Since 2018, she hosts the world's largest NFT-focused event every year. She serves as an advisor for global projects, including Animoca Brands, and is an angel investor in Sky Mavis, Yield Guild Games, and others.
■ Future Developments
Emoote will focus on supporting the growth of investee projects.
We are already providing the support measures listed below and, going forward, we plan to further enhance the value of our investee projects and to deepen cooperation with entertainment, media, and lifestyle businesses in Japan and Asia.
1.Marketing and business development support for Japanese and Asian markets
2.Introduction of Japanese entertainment IP and creators
3.Providing knowhow in the entertainment and media fields
■ Emoote Official Website/Social Media
 Website
https://emoote.com/
Twitter
https://twitter.com/emoote_
■ Akatsuki Company Profile
Akatsuki's mission is to "Entertain the World and Resonate with Creators" as we pivot on games to become an IP production company. We aim to bring stimulating entertainment to the people of the world by leveraging our strengths in game development and game operations that incorporate a deep understanding of the world view of IP content, our capability in original IP content creation, and our ability to provide solutions that maximize IP value.
| | |
| --- | --- |
| URL | https://aktsk.jp/en/ |
| Established | June 2010 |
| Representative | Tetsuro Koda, Representative Director and CEO |
| Address (HQ) | Oak Meguro 8F, 2-13-30 Kamiosaki, Shinagawa-ku, Tokyo |
| Businesses | Gaming, IP |
For inquiries about Emoote, its investments and business alliances:
https://emoote.com/contact/