Tokyo, Japan, August 25 , 2021—Akatsuki Inc. announced today the worldwide release of narrative puzzle game Behind the Frame: The Finest Scenery, the first original title from its Taipei, Taiwan-based subsidiary Akatsuki Taiwan Inc. in collaboration with Los Angeles-based Akupara Games.
The title was developed by Silver Lining Studio, Akatsuki Taiwan's in-house studio. Silver Lining Studio will continue to focus on developing premium games going forward.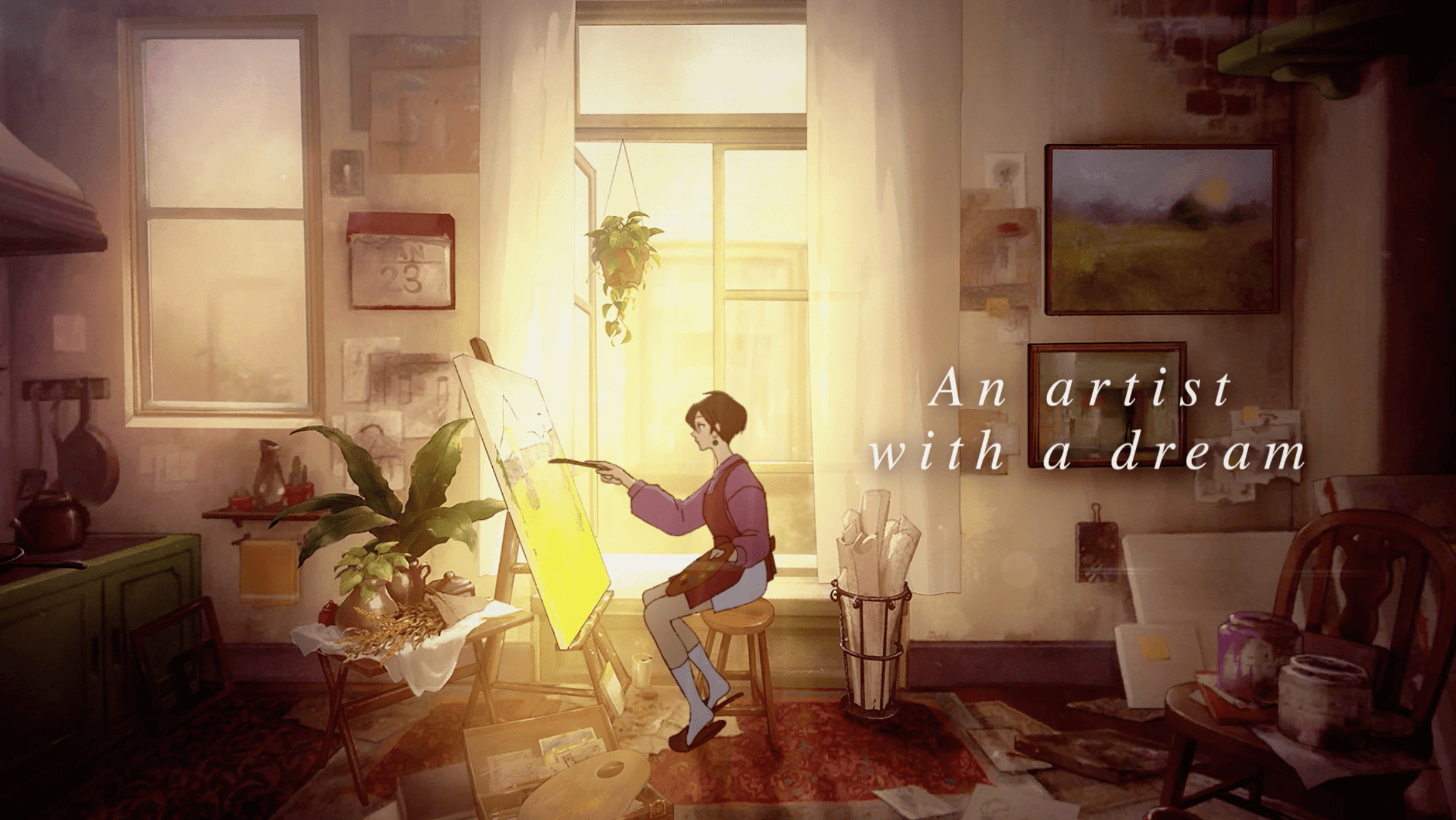 Narrative puzzle game Behind the Frame is the tale of an artist dedicated to her dream. It is told in a form similar to a short movie that unfolds through the game experience. Using tapping, dragging, and other intuitive motions, the player ventures in the game's worldview, which features soothing original background music and a panorama of images rendered in a style reminiscent of animation cels. Gamers get to enjoy this heartwarming story at their own pace, much as if it were a novel or movie.



From a first-person perspective, players seek out the materials they need to bring the painting to life. The artist works on the canvas every day—sometimes taking coffee breaks or pausing to look at her neighbor's place through the window. As the plot unfolds, she follows hints of memories hidden in the room to slowly unravel the story veiled behind the canvas.
Behind the Frame: The Finest Scenery—Overview
Behind the Frame is a story driven puzzle game where players fix, collect and connect fragments of memories around the paintings. A timeless tale unfolds through the eyes of an aspiring artist chasing her dream in a nostalgic, lyrical worldview.
Prologue
Listening to the brisk chirping of birds under warm sunshine, the artist once again picks up her paintbrush as usual. Sometimes she would look out the window and enjoy the scenery outside when she's having a quick break.
A short interlude happens during her regular days. A lost cat, the old man painting next door, some handwritten notes…
Everything seems unrelated yet familiar…
Awards
Behind the Frame: The Finest Scenery has been well received and nominated or won prestigious gaming awards around the world; a partial list follows.
Game Connection, 2020
・Puzzle solving, Smartphone/Tablet game genre: Winner
PGC Digital #5, 2021
・The Big Indie Pitch (mobile game genre): First Place
DevGAMM!, 2021
・Best Mobile Game: Winner
・Excellence in Visual Art: Nominee
NYX Game Awards, 2021 in Mobile Games Genre
・Best Visual Art: Gold Award
・Best Storytelling: Silver Award
・Best Experience: Silver Award
・Indie Game: Silver Award
Game Connection X ChinaJoy 2021
・Best Portable Game: Nominee
About Silver Lining Studio
Behind the Frame: The Finest Scenery is a creation of Silver Lining Studio, originally set up inside Akatsuki Taiwan as a trial project. It was formally created when Akatsuki Taiwan decided to establish its own game studio after an overwhelmingly favorable response to 2019's Within. Silver Lining Studio currently focuses on developing premium games.
Vision
Every cloud has a silver lining
Despite the somberness and dark hours in life, through the power of games and heartwarming stories, we hope to give players strength to overcome the gloomy hours and face the magnificent sunrise.
Profile
Joined Akatsuki Taiwan in 2017 after working as a contract character designer & concept artist for Disney Consumer Product & Publishing Dpt.., a character designer for a picture book and illustration company, and art director at a game company. He has since begun working on Silver Lining Studio projects and now serves as a game project producer. Drawing and gaming are his hobbies.
About Akatsuki Taiwan
Akatsuki Taiwan Inc. was set up in 2014 to be a hub for Akatsuki Inc.'s global projects. Led by CEO Takuya Kozaki, it is responsible for the management and localization of overseas versions of the company's game titles, as well as development of and distribution to sales platforms around the world. Also functioning in customer support and promotional roles, Akatsuki Taiwan collects feedback from players in countries where it distributes games and reflects it in game management. Globally, it now has roughly 180 staff providing user-friendly localized titles for Japan, South Korea, the UK, France, the US, and India.
Akatsuki Taiwan website: https://aktsk.com.tw/
About Akupara Games
Akupara Games, LLC, the global publisher partner for Behind the Frame: The Finest Scenery, is an indie game studio based in Los Angeles formed by industry veterans.The independent studio focuses its energy and resources on indie games, and provides critical support to indie studios in development, distribution, porting, and consulting, bringing a unique experience and tailored support to each project.
Akupara Games website: https://www.akuparagames.com/
2 September 2021 13:00 JST
Link to YouTube video removed. Allegations have surfaced that part of the Behind the Frame soundtrack infringe on the owner's copyright.