Tokyo, Japan, May 19, 2021 — Akatsuki Inc. announced today that it and Chiyoda City, Tokyo-based Shogakukan-Shueisha Productions Co., Ltd. (ShoPro) have embarked on a joint project to create new intellectual property (IP) for launch from the TikTok platform. As the first of many characters to come, the project has rolled out a collection of adorable big-cheeked squirrels called Hoppe Pomrisu.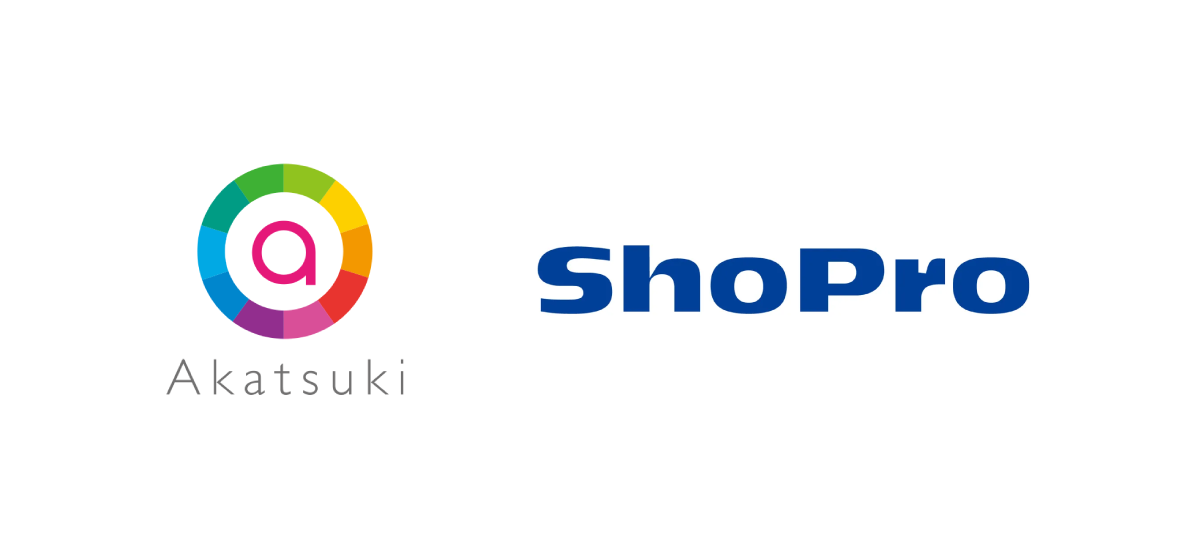 The project
The project envisions launching communicative characters that, letting them convey their innermost feelings without uttering a word, will bring the world's teens together. The joint Akatsuki–ShoPro venture's purpose is to create IP and launch from Japan to the world via the TikTok platform.
TikTok has been downloaded some 2 billion times by users around the globe*. A survey of 10–15 year old girls† conducted for the project found that over half of middle school-age girls follow TikTok (56.7% of first-year, 66.7% of second year, and 53.3% of third-year middle schoolers). There have also been characters and artists achieving immense popularity thanks to videos posted to the platform.
In moving the project forward, Akatsuki and ShoPro will assume roles commensurate to their respective competencies as they work toward creating new IP for launch via TikTok with a view to developing a rights-management business in and beyond Japan. Leveraging its experience as a devs and ops team and content production capabilities nurtured in the creation of IP for Kumarba's YouTube for Kids channel and other like platforms, Akatsuki will create IP, produce content, and develop strategies for acquiring fans on TikTok and other social networking services. ShoPro will build on its extensive merchandising and character-development know-how to manage content licensing, turn characters into merchandise, do their marketing (including promotions), and sell merchandise through brick-and-mortar and online retailing outlets.
Hoppe Pomrisu, the first character collection of many to come
A TikTok account for Hoppe Pomrisu, the first of the project's many upcoming characters, was launched in December 2020. It features videos depicting the love life and daily routine of several adorable Hoppe Pomrisus that have won a following among kids and young people, most between the ages of 10 and 20. Posted videos have been watched over 10 million times, and the account's followers exceeded 180,000 in just four months—many of them overseas, indicating that the characters are popular with TikTok users outside Japan too.
* Source: Sensor Tower research, April 2020
†Source: July 2020 Persona Discovery Survey of Targets in Character Content Development for 10–15-year-old (elementary- and middle-school) Girls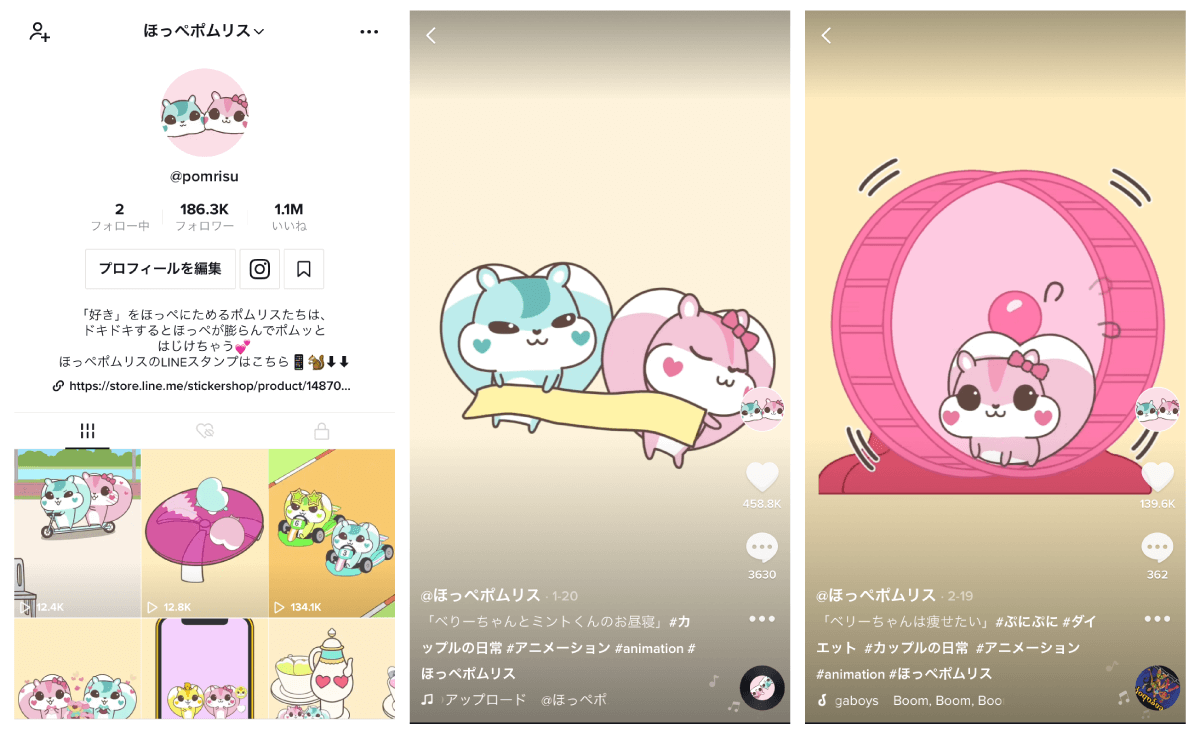 The Hoppe Pomrisu characters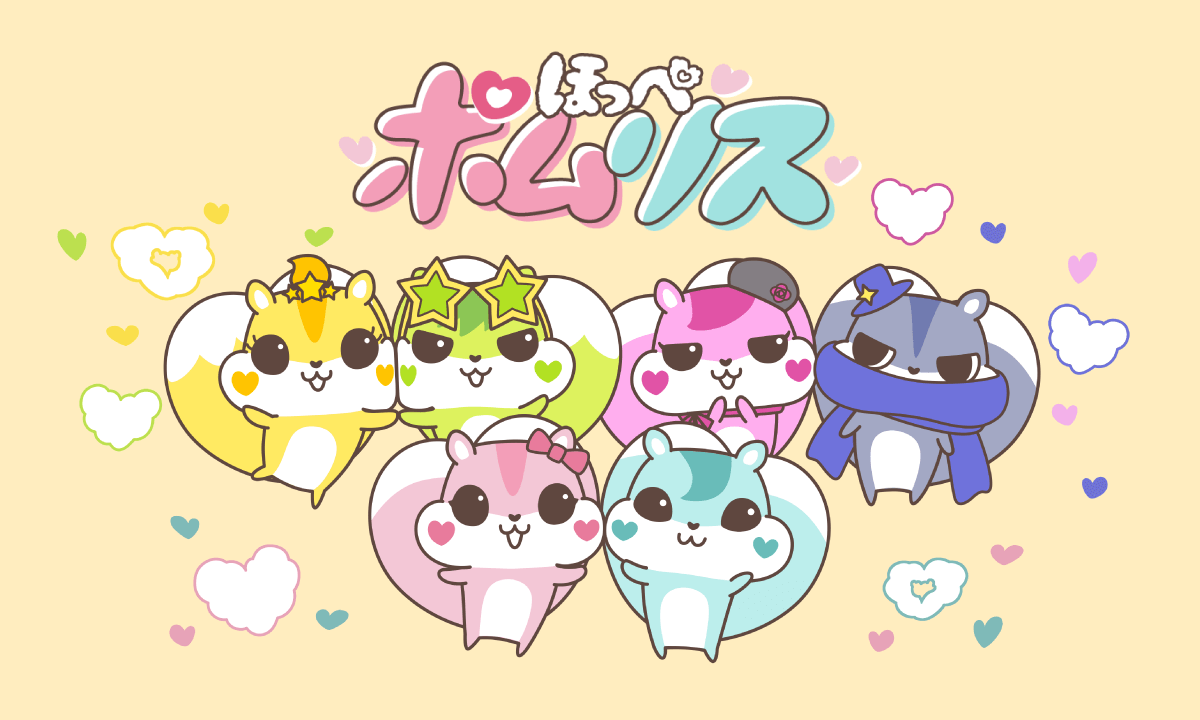 Hoppe Pomrisu are little squirrels. When their cheeks get filled with things they like, they swell and go "pop," expelling little hearts. The sight of lots of subtly distinctive Pomrisus with their checks going "pop" when they're with someone they like, had lots of sweets, or are having fun dancing, is winning the hearts of users in the 10–20 year old segment.
The Hoppe Pomrisu IP licensing business
1. An online store selling original merchandise
Today we opened an online store in conjunction with production and sales of original merchandise as part of our Hoppe Pomrisu IP licensing business. The first merchandise lineup offers 48 variations of six items such as T-shirts, mugs, and tote bags; going forward, new item designs will launch on an ongoing basis.
Hoppe Pomrisu online store (opened May 19, 2021)
https://pomrisu.jp/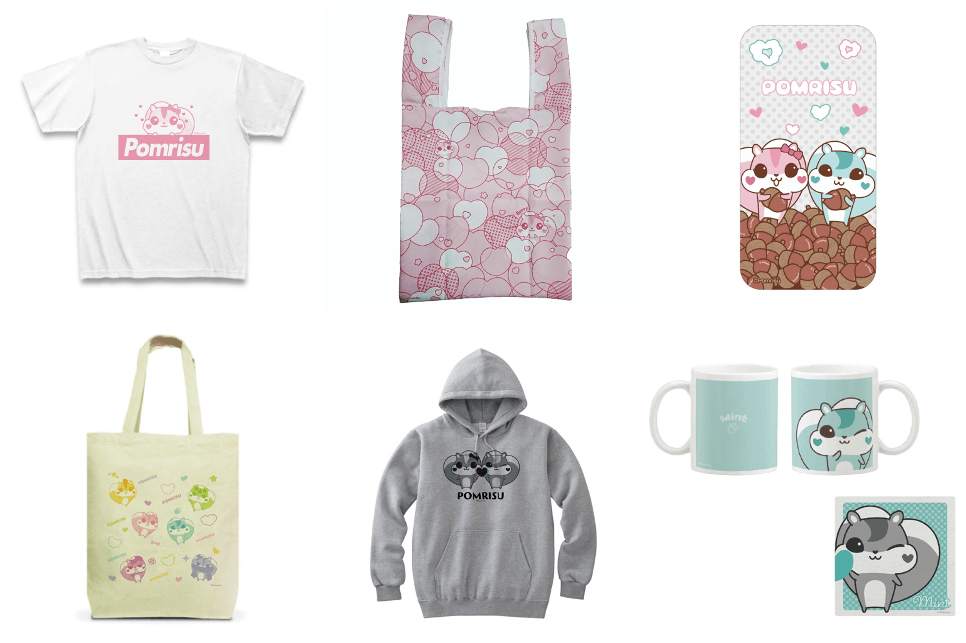 2. Hoppe Pomrisu LINE stamps
A collection of Hoppe Pomrisu stamps for LINE are available for purchase in the Creators' stickers section of the LINE stamp store at https://store.line.me/stickershop/product/14870595/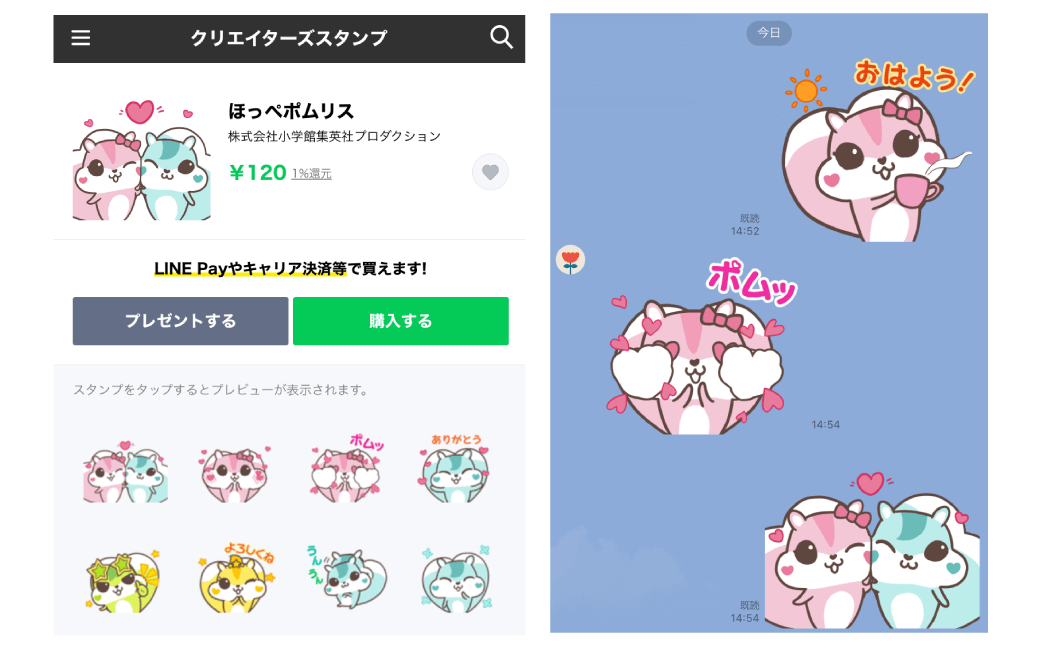 Licensees sought
Interested in licensing Hoppe Pomrisu IP for your business? To learn more details, drop us a line via the contact points below.
What lies ahead
In addition to further growing the Hoppe Pomrisu business, the project will be creating more new IP for launch from Japan to the world via TikTok.
About Akatsuki Inc.
Akatsuki is in entertainment. Our vision is to "Entertain the world. Resonate with creators." and our business is producing intellectual property (IP) with focus on games. We're able to develop and host games with a deep appreciation of their worldviews, we can create original IP, and we have the capacity to provide IP value-enhancing solutions. But most of all, we're committed to delivering entertainment that will rock people around the world.
About ShoPro
Shogakukan-Shueisha Productions Co., Ltd. (ShoPro) provides a broad range of services in the entertainment and learning & education market segments. The Media business licenses and merchandises intellectual property (IP) owned by Shogakukan Inc., and is involved in merchandising characters, producing TV shows and videos, organizing events, and many other products that entertain in Japan and abroad. The concept that unites its two seemingly incompatible segments of education and entertainment is 'edutainment' – this is what allows ShoPro to provide its distinctive content to a global audience.