Tokyo, Japan, April 2, 2021 — Akatsuki Inc. (Headquarters: Tokyo, Shinagawa-ku, CEO Tetsuro Koda) has announced plans for further investment into India through the company's entertainment and technology-focused AET Fund, which has invested in 18 companies to date.
Since June 2018, AET Fund has been investing in India to capture significant upside in the market. With a population of over 1.3 billion, a majority of whom are under 30 years old, India is experiencing rapid growth in both the internet industry and media consumption. AET Fund has invested in 18 startups thus far, with three exits, and will continue to invest primarily in the entertainment and media sectors.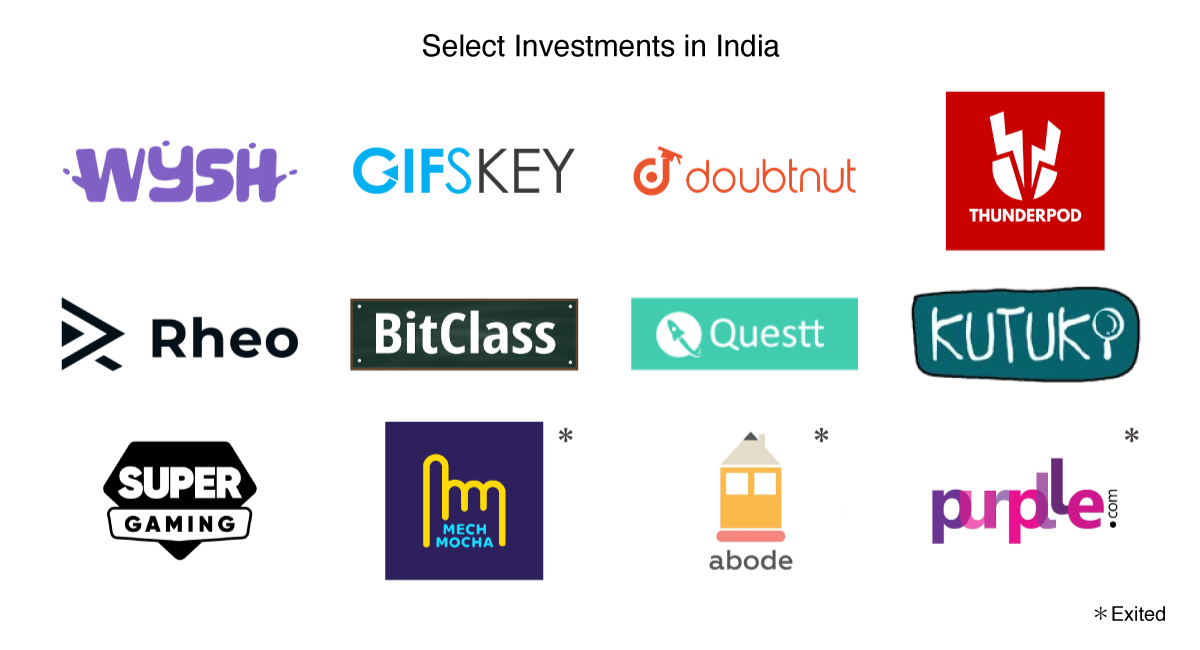 Going forward, Akatsuki will continue to actively invest in India with its expertise, while also preparing to further expand its IP business in the market.
◼︎ Recent Investments in India (Select)
Most Recent
Round
Company
(Location)
Investment Thesis
(Co-investors)
December 2019
Wysh
(Bengaluru)
Personalized Video
Messages from Celebrities
(Kalaari)
December 2019
GIFSKEY
(Bengaluru)
GIF Discovery Platform
(Kalaari)
January 2020
Doubtnut
(Gurugram)
Interactive Online Tutoring App
(Sequoia and Omidyar)
March 2020
Thunderpod
(Mumbai)
The Social Health and Fitness Platform
(Y Combinator)
March 2020
Rheo
(Bengaluru)
Game Streaming Platform
(Sequoia and Lightspeed)
October 2020
BitClass
(Bengaluru)
Live Class PaaS Solution for Teachers
(Waterbridge)
February 2021
Questt
(Goa)
School Homework App
(Chiratae)
February 2021
Kutuki
(Bengaluru)
Kids Learning App for Indian Children
(Omidyar)
April 2021
SuperGaming
(Pune)
Mobile Game Developer and Publisher
(Dream Incubator)
◼︎Exits
Exit
(Initial Investment)

Company
(Location)
Investment Thesis
(Co-investors)
November 2020
(November 2018)
Mech Mocha
(Bengaluru)
Social-gaming Platform
(Accel)
December 2020
(June 2018)
StayAbode
(Bengaluru)
Co-living Spaces
(Incubate Fund)
February 2021
(August 2018)
Purplle
(Mumbai)
Online Beauty Store
(Goldman Sachs)
Yuki Kawamura
Head of Business Development and Partnerships, Akatsuki Inc. | Partner, AET Fund
As Head of Business Development and Partnerships, Yuki oversees all partnerships for Akatsuki. He also serves as Partner at AET Fund, a financial investment arm of Akatsuki. Prior to joining Akatsuki in 2018, he worked at Netflix as a Japan launch member and led the content strategy team. Yuki started his career in Monitor Group as a management consultant and later joined Booz & Co. He holds M.S. and B.S. in computer science from Keio University.